Awaken the Curse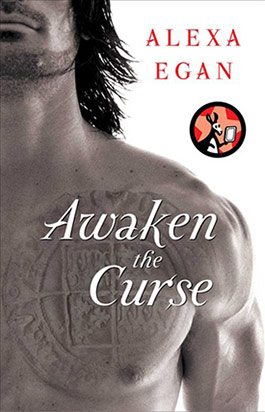 The Imnada Brotherhood Series, enovalla
November 2012
Pocket Books
The Imnada Brotherhood is a series about a race of shapechangers who have lived secretly as human for thousands of years and would do anything to guard their existence from a dangerous outside world.
One very passionate and very scandalous kiss tore James Faraday and Kate Lacey apart. Now five years later, the new Lord Duncallan receives an unexpected summons from Kate's father and his old professor, begging him to come to Wales. But when James arrives, he finds Professor Lacey has vanished and both danger and temptation lurk around every doorway. Now James and Kate must lay aside five years of bitterness and regret to solve a mystery dating back to the final days of King Arthur's reign—a secret that someone would kill to keep buried.
"You'll enjoy getting lost in this uniquely created world."
~Cocktails and Books
"Brilliant and inventive storytelling."
~VampChix & Bite Club
She felt the moment James gave in, the second he reached his point of no return, hesitation changing to hunger. It should have frightened her, this single-minded power stringing his muscles and hardening his gaze. Instead delicious heat seared its way through her body, chasing away the shadows that lurked, the endless days that lay like a wasteland ahead of her.
Closing her eyes, she shoved the future away, concentrating on the present. On James's hands as they caressed the slope of her shoulder, the curve of her breasts. On the shivery trembling in her limbs as he lay a trail of kisses behind her ear, down her throat, inside her elbow, the curve of her palm. 
Behind her, the fire blazed up in a shower of sparks, the air growing warm and fragrant with flowers. She opened her eyes to discover walls of rough-hewn stone shimmering into flawless white marble that rose into the arch of a domed and frescoed ceiling, thick carpets where once she stood upon cold damp earth, an enormous bed hung with damask curtains, a silken coverlet drawn aside to reveal linen sheets.
"How can this be?" she gasped.
A sheepish smile broke over his rugged face. "Fires are not all I can conjure. And I told you I spent much of our years apart in study. I just didn't happen to say what sort of study."
"Is it real?"
"Like the jewel I offered you, for tonight, it's as real as you or I. But come the dawn, the magic will burn away like dew before the sun."
The flecks of gold within his unyielding gaze gleamed brighter and brighter until she saw nothing beyond the brilliance within his eyes. When he finally blinked, she caught back a breath. Gone were their heavy winter coats, mufflers and boots. Vanished were layers of damp woolens and cold stockings. James wore a velvet embroidered banyan sashed at the waist while she felt the slide of perfumed silk against her bare skin.
"Tell me, Katherine," he asked quietly. "Is this truly what you want?"
She reached up to cup his cheek, half-expecting him to disappear in a shine of Fey-born magic. "It is."