The Girls in Navy Blue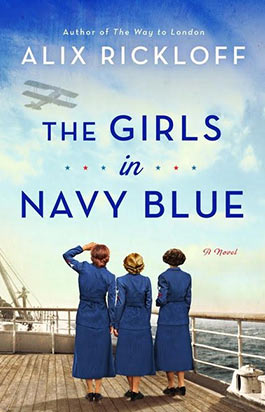 November 2022
William Morrow
For a Signed Copy, contact:
The Bookplate
Chestertown, MD
Phone: (410) 778-4167
Email: contact@thebookplate.net
A gripping and compelling dual timeline novel about three women who joined the Navy during WWI to become yeomanettes and the impact their choices have on one of their descendants in 1968.
1918 - America is at war with Germany, and, for the first time in history, the US Navy has allowed women to join up alongside the men. Ten thousand of them rush to do their part. German-American Marjory Kunwald enlists in the Navy to prove her patriotism. Suffragette Blanche Lawrence to prove that women are the equal of men. And shy preacher's daughter Viv Weston in a desperate attempt to hide from the police.
Even as the US military pours into France and the war heats up, the three yeomanettes find friendship and sisterhood within the Navy. But all their plans for the future are thrown into chaos when Viv's dark past finally catches up with her.
1968 - Newly divorced and reeling from a personal tragedy, Peggy Whitby unexpectedly inherits her estranged great-aunt Blanche's beach cottage outside Norfolk Virginia. But her fragile peace is rattled when she begins to receive mysterious postcards dated from 1918 when Blanche served as a Navy yeomanette.
Curious to learn more about her mysterious aunt and uncover the truth behind the cryptic messages, Peggy is drawn deeper into the lives of the three young Navy girls. But her digging uncovers more than she bargains for, and, as past and present collide, Peggy must decide if finding out about her aunt is worth the risk of losing herself.
"Alix Rickloff pens a lovely coming-of-age tale: brave women making waves in a war-torn world. The Girls In Navy Blue had me smiling from first page to last!"
~Kate Quinn, NYT Bestselling author of The Diamond Eye
"A beautiful coming of age under fire story that will live with the reader long after the book is over. This is truly WWI fiction at its finest."
~Aimie K. Runyan, international bestselling author of The School for German Brides
"Rickloff spins a tale of friendship, loyalty, and secrets…an endearing account of the first women in the navy and how they proved themselves worthy."
~Booklist
"A thrilling story showcasing the wartime contribution of a forgotten sisterhood of soldiers."
~Bryn Turnbull, international bestselling author of The Last Duchess
"In this compelling story of ground-breaking women and the dangerous secrets they keep, Alix Rickloff brings the past vividly to life."
~Christine Wells, author of One Woman's War
"A nostalgic and eye-opening journey…Rickloff has written a riveting reminder that the bonds of found family can be stronger than blood."
~Kaia Alderson, author of Sisters In Arms
"The Girls in Navy Blue is an enthralling story about sisterhood, and the secrets we leave behind. A delight from the first page to the last!"
~Lecia Cornwall, author of That Summer In Berlin
Chapter 1
April 1918, Newport News, VA
VIV
Name?
I paused over the application for only a moment before writing Vivian Weston in bold dark ink.
The rest of the answers fell easily off my pen, and I handed the form to the young woman in charge with a smile of confidence. She was a tall, strapping girl. In the fitted blue serge naval uniform complete with shiny gold buttons, clipboard poised and at the ready, she was altogether intimidating. I pushed aside my nerves. Soon enough, I could look like her; clever, efficient, an anonymous uniform among a sea of such. I'd be unrecognizable. Just the way I needed to be.
The girls in line with me all seemed so put together, smiling and chatting as they waited, exchanging hometowns, opinions on the weather, the journey, the war. One or two of them had tried to start a conversation with me, but I'd been too nervous to make small talk, too self-conscious of my dingy wardrobe, my unkempt hair, my scuffed and pinching boots. They soon drifted away, and I was left alone. Good. Fewer questions meant fewer lies.
She scanned the pages quickly. "Do you have a birth certificate?"
My smile faded. "Will it stop me from enlisting if I don't?"
"Nothing official at all?"
I'd come so far. She couldn't turn me away now, not over something as measly as a birth certificate. "There was a fire a few years back," I explained. "It took all the records with it."
She marked her clipboard, while I held my breath. If she me sent away, where else could I go? I'd burned all my bridges. There was nothing left for me at home. I'd reached the end of the line—literally. To the east lay only the wide Chesapeake Bay opening onto the even wider Atlantic Ocean. War or no war, if I could have swum it, I would.
She handed her clipboard off to a man in summer naval whites who reviewed my paperwork with an even more careful eye. He weighed me up, taking my measure, his long steady gaze unnerving after so many days of trying to be invisible. I stood straighter and held myself with the same confidence I saw in the young woman, but the stretch of healing flesh sent a fire sizzling along new scars, the older ones aching in sympathy. I caught my breath back at the pain and hoped he didn't notice.
"I think we can overlook her lack of documentation. The other information is all in order, and she passed her physical with flying colors."
Since my physical had been conducted by a naval reservist, more embarrassed than me at the thought of the examination, he'd barely done more than make sure I was breathing before passing me along with all the qualifying marks.
"Aye aye, sir." Her expression of grim efficiency faded, and she answered my obvious relief with a slight smile as the officer pulled a well-used bible from a desk drawer and beckoned me forward. "Raise your right hand and repeat after me."
I stood as straight as my injuries allowed, my heel no longer pinching, my stomach settling after the sick fear that had followed me halfway across Virginia. "I, Vivian Weston do solemnly swear that I will bear true faith and allegiance to the United States of America, and that I will serve them honestly and faithfully against all enemies whomsoever; and that I will obey the orders of the President of the United States, and the orders of the officers appointed over me, according to the Rules and Articles of the Government of the Navy."
He thumped the bible closed with a shouted, "Next!"
And that was that.
I was now a yeoman third class in the United States Naval Coast Defense Reserve. No brass bands or parades, just a small dingy room in a building off 24th Street and River. I had hoped it would make me feel different; braver, more capable. But no amount of governmental paperwork could do that. I was still just as frightened, my old life lurking around the corner waiting to pounce.
I hustled out of the office, making room for the next girl in line, but as I gathered my hold-all, the young woman paused in her interrogation of a short, round dumpling of a girl with blonde curls and a squeaky voice. "Next door, they'll organize your service record and your uniform allowance and offer an advance on this month's pay. Then you'll be told where and when to report."
"I was hoping for a posting somewhere like New York or maybe the West Coast—California maybe."
"You and every other hayseed enlistee looking for excitement. Sorry. You're stuck right here in good old Hampton Roads."
"But I can't stay here," I pleaded. "I just can't."
"That's not up to you. You go where you're told. You're in the Navy now, Weston."
I looked at her blankly for a moment before I realized she was referring to me.