Heir of Danger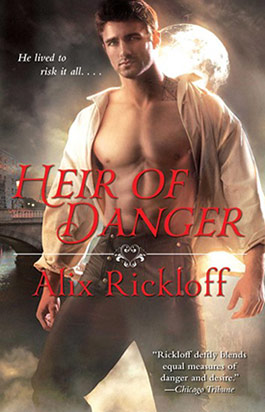 Heirs of Kilronan Trilogy, Book 3
December 2011
Pocket Books
The Heirs of Kilronan trilogy follows one family's struggle to stop a madman from resurrecting King Arthur as part of a plot to instigate a war between Other and Mortal.
A man too dangerous to live. . .
After seven years outrunning enemies, friends, and his own soul-crushing memories, Brendan Douglas is risking everything on a desperate mission. He has vowed to thwart the evil mage Máelodor's plans to unlock the past and reshape the future . . . unfortunately the precious treasure that is the key to success lies with a woman he jilted seven years before.
A woman determined to find a life of her own. . .
When her golden-eyed childhood hero abandoned her at the altar—disappearing in a storm of magic and mayhem, destruction, betrayal, and disaster—Elisabeth Fitzgerald struggled to overcome her humiliation and loss. Finally, she has found a new fiancé and a comfortable future. Then, the one man she thought she would never see again appears—among her wedding guests. Brendan Douglas has returned.
An inescapable destiny. . .
It's not just that Elisabeth is promised to another; Brendan knows he is drawing her into terrible danger. But he cannot resist the bewitching, brave, wholly unexpected woman his youthful nemesis has become. He promised to sacrifice everything, but is he willing to sacrifice Elisabeth?
"Ms. Rickloff writes another fascinating and unusual tale."
~Romance Reviews Today
"Rickloff swept my imagination into places that it has never been before making HEIR OF DANGER a true treasure to read."
~Fresh Fiction
"Vividly imagined and deftly told, HEIR OF DANGER is a thrilling, chilling, exceptional read!"
~Romance Junkies
"You," a voice hissed from behind him.
Shoving the stone deep into his pocket, Brendan spun to face Elisabeth, frozen in a look of panic he knew mirrored his own.
 "Is stealing into my bedchamber your idea of a joke? Because I'm not laughing."
He recovered instantly, his face breaking into a wicked smile. "Is it so difficult to understand why I'm here? Or have your aunts not had that talk with you yet?"
She lifted her chin to him, the scent in her hair and upon her skin faint and lemony.
"Never mind what my aunts have told me," she snapped. "You must think me ten times a fool if you're using seduction as your excuse."
He tucked a curl behind her ear, ignoring her flinch at his feather-light touch. "Never a fool, Lissa."
"I told you not to call me that."
Mere inches separated them. The heat and anger rising from her body stirred his blood. He had but to lower his head to touch his lips to hers. To kiss the full, soft mouth. Pull free the rippling tangle of her hair until it hung loose and wild about her head.
"If you leave now, we can forget any of this happened," she said.
"There hasn't been any of this yet."
The tip of her tongue flicked across her lips, her eyes so dark a brown as to be obsidian in the moonlight. "This isn't heathen Istanbul where women swooned at your feet." Her words came harsh with recrimination. Or was it jealousy he detected?
"I wouldn't say they swooned."
"This is Ireland," she asserted. "Safe, normal, Ireland where women do not entertain men in their bedchambers. Especially men who've proven they're not to be trusted."
"You talk too much." Assessing the situation, he chose to risk it. He couldn't stop himself if he wanted to. She was too close, his heart racing too fast. Cupping her cheek, he brushed his thumb over her lips. Lowered his head and kissed her. Her mouth as petal-soft and sweet as he imagined. He pulled her closer, a fire fast rising through him. The kiss deepened, his tongue slipping within to taste, her breath mingling with his. Pulling loose her robe, he traced the curve of one beautiful breast, her nipple pebble-hard beneath the filmy fabric of her chemise. A whimper escaped her, her hand pressed over his heart.
That simple act of faith slid between the cracks in his armor. He shouldn't be doing this. Not with her. Better to spend his lust on an experienced woman who understood the game.
He'd no time to act on his gentlemanly impulse when Elisabeth wrenched free, a heady flush to her cheeks and a sparkle in her luminous, dark eyes. "No!"
He schooled his features into bland amusement, a corner of his mouth twitching. "Why not? Technically we're still engaged."
"Now I know you're mad. And what of the last seven years when I thought you were dead?"
"We've been through that. I wasn't dead."
She dropped back into an armchair, drawing her feet up beneath her. "You were right to call me fickle. I've betrayed Gordon. I've kissed another man."
"I kissed you."
"Yes, but do you think I would have let you if I didn't want it?" She covered her face with her hands. "What have I done?"

"Lissa—"
"I said don't call me that. You promised me earlier tonight you'd be gone from here by morning."
The taste of her still on his tongue, her smell still heavy in his head, he offered a brief nod. "And so I shall. Good-bye, Elisabeth. If the luck of the gods is with me, I won't trouble you ever again. "
Walking away was far more than difficult than he'd ever imagined. Yet, staying was impossible.