Unleash the Curse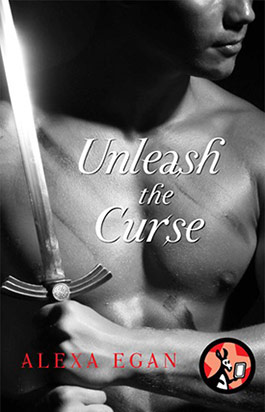 The Imnada Brotherhood Series, enovalla
September 2013
Pocket Books
Available as an eNovella, the prequel to the second novel in the dark and sexy Imnada Brotherhood trilogy about shapeshifters in Regency-era England.
Neither actress Sarah Hayes nor London's most eligible bachelor Sebastian Commin, Earl of Deane, has ever forgotten their one and only scandalous night of white hot passion or the differences in their social positions that make a future together impossible. So when they discover that they'll be fellow guests at a house party, they vow to keep each other at arm's length. A vow that becomes impossible to keep when they find themselves caught up in a mystery involving a brutal attack on an Imnada shape-shifter and an unexplained entity known as the Naxos.
Each clue they uncover reveals more about the ancient Imnada enemy—monstrous soul-feeders with the power to devour worlds. Each fiery encounter between the aristocrat and the entertainer underscores the raw desire that crackles the very air between them until Sebastian is convinced to make Sarah his wife, no matter the cost to his reputation. He just needs to convince Sarah, who cares for him too much to allow his future to be ruined by marrying a low-born actress. It's only when the sinister Naxos strike again and Sebastian's life is threatened that Sarah realizes she's willing to risk a little scandal in order to save the world . . . and the man she loves.
"Prince Christophe proposed last week." Sarah's expression never changed unless it were a deepening of the color in her cheeks, a hardening of her jaw.
"You're marrying that oily gammon merchant?" Sebastian said, his voice sounding unnaturally strained.
"Is your shock that I'm marrying? Or that I'm marrying above my station?" She tossed her head. "You wait and see, darling. I'll be the toast of the Adriatic and eat grapes from silver platters served by men in togas."
Even set back upon his heels, he recognized her vulgarity for what it was; a subterfuge, a way to divert his attention and carry the conversation back to her advantage. "Why do you do that? Why do you act as though you're fresh out of the rookery when I've seen you moving among the upper ten thousand with the graciousness of a duchess?"
"The ton might let me past their doors, but I'm no more than a dancing monkey dressed up and paraded for their amusement. I'm not really one of them, and they make sure I don't forget it. As long as I understand my place and live beyond reproach, they indulge me, but step one toe out of line and it would be a far different story."
"Does marrying your prince count as breaking the unwritten rules?" he asked after a minute or two had passed in silence.
She shrugged. "Christophe is a foreigner. That places him in the same ranks as lunatics and imbeciles. People like that can't be held accountable for their actions."
This sounded like something his mother would say. Just thinking of the dowager countess was enough to remind Sebastian of the list of prospective brides awaiting his inspection. All from high-ranking families. All paragons of maidenly virtue. All interchangeable as cogs in a machine. He might as well close his eyes and point a finger.
"I'd no idea your life was such a knife edge," he said quietly. "Nor how close I came to ruining it."
Her lashes swept down to hide her expression. "You aren't at fault. There were two of us in that bed, my lord. But you could have crowed your conquest to the world, and you didn't." She lifted her gaze to his, the darkness accentuating the long line of her cheekbones and the strong angle of her jaw. "For that, I owe you my thanks."
"I don't make a habit of bandying ladies' names as notches on my belt."
"But actresses aren't considered ladies, and you wouldn't have been the first man to make claims about my sexual impiety." A smile tweaked the edge of her mouth. "Only the first to be telling the truth."
That whisper of humor, that hint of deeper waters running beneath the placid surface of her face made him ache to take her in his arms. More so than any blatant invitation ever could. He wanted to coax that smile to fruition. To revisit the hollow at the base of her throat and skim a hand over the soft curve of her hips. To hear the throaty purr of her voice as she whispered his name. One short night hadn't been enough time to learn her in the way he desired. A lifetime might not be enough. She had too many secrets, too many sides.
"Prince Christophe is a lucky man, Miss Haye." So lucky, Sebastian had the irrational and uncharacteristic urge to beat the shit out of the smarmy bastard.
"He is, isn't he?" Her eyes glittered strangely in the half light of his candle. "But you never answered my question, Lord Deane."
"What do you want me to say? A crown will suit you very well."
"That's not the question I meant. Why should I trust you?"
"Maybe you shouldn't." The shape of her cheek, the arch of her brows, the fullness of her lips; they pressed themselves like spring flowers in his heart. Before she could stop him, before he could think better of it, he pulled her close, searching her eyes for any hint that she remembered that long ago night as anything more than a mistake. "But you knew that already, didn't you?"